Felting is such a flexible and versatile process that I never tire of experimenting.
The possibilities are endless.
Enrich your wardrobe and your life by learning one of the world's oldest fabric techniques with a bold and colourful new twist.
Meet with old friends or make new ones while we explore together a blend of creativity and skills that you can learn in an afternoon, yet take a lifetime to master.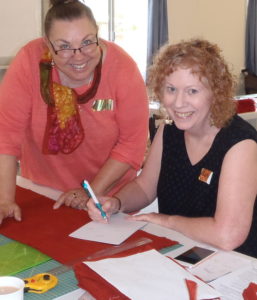 Notan and Prefelt shapes
Create clear, precise, repeating patterns on felt for anything from cushion covers to yardage for clothing.
View some examples of this work. 
Pieced and Striped Fabric
Join different fabrics and gather fabric with strips of fleece to create light, softly ruched fabric for unique scarves, wraps and clothing.
Here are some examples of pieced and striped fabric.
Surface Texture and Resists
Use different fabrics and inclusions to create texture, resists to create hollows and stitches to create folds for hats, handbags, or vases. Add texture to scarves, wraps, collars and cuffs or whole garments.
Here are some examples of surface texture and resist work.
Traditional and Nuno
Create two very different sides to your felt; great for reversible coats. Sandwich fleece between two layers of fabric, creating a durable textile for light, warm garments.
Learn to make holes – on purpose.
Here are some examples of traditional and Nuno felt.
Felt Jewellery
Fun, funky and sophisticated brooches, bangles, hat pins, neck-pieces and ear rings are quick simple to make.
View some examples of felt jewellery.
Let your front loading washing machine do the work to create both traditional and Nuno felt.
My aim is always for you to have fun and learn lots!
For personalised workshops for up to three people in my studio or for
larger classes at other venues, please email me at designsonyou@netspace.net.au
or
check out my facebook page for upcoming workshops
https://www.facebook.com/maudebathdesignsonyou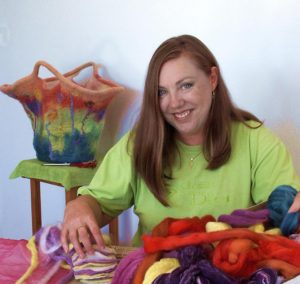 I have been making felt since the early 90s. It began as part of my interest in millinery, but I soon fell in love with this magical process. Since then, my work has evolved into bright and delicate felts that are finely textured and suit the Australian climate.
The inspiration for many of my designs is the Australian bush. Sometimes I even use bush plants to dye and create patterns on my work.
In 2003 I became a founding member of the T'Arts Collective, a textile and arts co-operative in Adelaide that showcases many local artists.
In 2010 I was selected as artist-in-residence at the Echigo-Tsumari Triennial in Japan; a three month project funded through the Australian Embassy, Tokyo. During this residency I developed my unique Notan Nuno Felting technique.
I have exhibited in many galleries around Australia, Japan and New Zealand. I enjoy teaching felting and am happy to accept commissions.