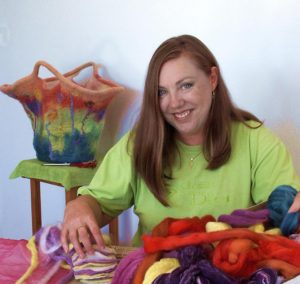 I have been making felt since the early 90s. It began as part of my interest in millinery, but I soon fell in love with this magical process. Since then, my work has evolved into bright and delicate felts that are finely textured and suit the Australian climate.
The inspiration for many of my designs is the Australian bush. Sometimes I even use bush plants to dye and create patterns on my work.
In 2003 I became a founding member of the T'Arts Collective, a textile and arts co-operative in Adelaide that showcases many local artists.
In 2010 I was selected as artist-in-residence at the Echigo-Tsumari Triennial in Japan; a three month project funded through the Australian Embassy, Tokyo. During this residency I developed my unique Notan Nuno Felting technique.
I have exhibited in many galleries around Australia, Japan and New Zealand. I enjoy teaching felting and am happy to accept commissions.